CLEANING AND MAINTENANCE OF LEATHER UPHOLSTERY
Without entering into partisanship, nor in favouring one material over another (the decision of the fabric to be used in the upholstered furniture will always be the client's), for many advantages that we find in the upholstered furniture in fabric or other cloths, getting decided for the acquisition of a furniture upholstered in leather means to take home or to your facilities a
furniture of high range
, with a special touch and distinction that only a material like leather can offer.
In short:
leather furniture will always be more resistant, and will offer you superior comfort.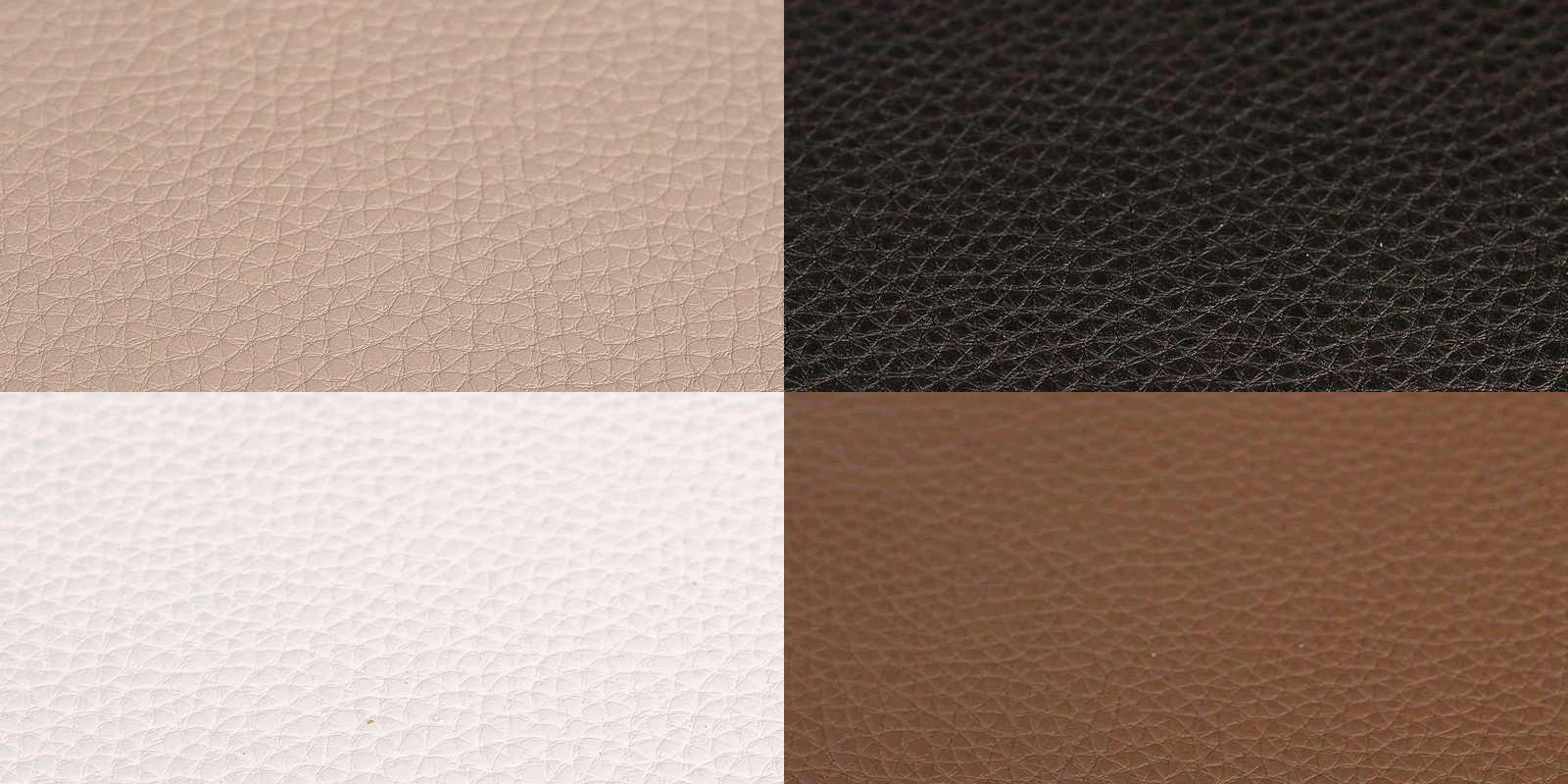 Before we go on, let us comment on the fact that
leather used for furniture upholstery is a by-product derived from cattle rearing obtained from the end of the meat industry process.
In other words,
animals are not slaughtered in order to generate upholstery material.
But, as in the case of other fabrics, doubts always attack us when we already have the furniture with us...
What is the correct maintenance of leather upholstered furniture? What is the best way to clean stains that may appear on this cloth?
First of all, it has to be understood that leather is (unlike other fabrics used in upholstery)
an organic material
. In other words, it is "living matter" (it comes from a living being, it is not something artificially prefabricated), so that its cleaning and maintenance is something completely different from that which must be carried out with furniture upholstered in leatherette, cloth or nobuck, for example.
Leather-trimmed furniture has an inherent advantage (over fabric furniture, for example) in that it has a
long service life
,
as long as it is properly maintained.
Even if it is more resistant than other fabrics or cloths,
leather is skin, and therefore must be protected and nourished
. Unprotected leather can lose colour, peel, crack or change texture as a result of the action of countless negative agents such as heat or exposure to light. Leather lasts longer and looks better when preventive maintenance procedures are applied on it. In conclusion: leather, taking care of it and nourishing it periodically, is almost "eternal".
The care that must be given to a piece of leather upholstered furniture is practically the same as the care that we give to our body when showering and, immediately afterwards, when taking a cream bath throughout our body to keep our skin nourished, elastic and healthy. The same goes for our leather furniture.
A good care and maintenance of our leather upholstered furniture prevents that, with time, it gets carpeted and cracked, appearing small cracks, crevices and rifts that, besides being unsightly, make the furniture radically lose its comfort and convenience.
In addition, whatever the animal (although we remember and stress that
we use authentic 100% genuine cow leather in our products
), leather, with its daily use, is covered with dirt, and is exposed to aggressions caused by external factors such as dust, body grease, sweat, animal hairs, normal wear and tear from use, colour transfer (such as that produced by rubbing against clothes like jeans, etc.).
To avoid deterioration, we recommend that you follow our advices to protect, clean and keep your leather upholstered furniture like new.
INITIAL RECOMMENDATIONS
As with all other tissues, prevention is essential (e. g. by controlling young children or preventing pets from jumping on the furniture).
Keep the furniture at least 1 meter away (the further away, the better) from any heat source or form (such as stoves, radiators or hot air outlets). Prolonged exposure of furniture to any heat source will cause the skin to dry out more than usual, losing its normal moisture and causing cracks and discolorations.
In the same way, we should avoid exposing the furniture to direct sunlight. This will cause the skin to progressively lose its colour, as well as causing the skin to flake and crack through the areas where light is directly impacted. Leather is especially sensitive to this light, even though we use many products to keep it save. Therefore, we recommend that you do not place the furniture under windows or skylights, or have it on a terrace and without any type of protection.
Keep the leather ventilated, and apply a conditioner if it looks dry, to restore its flexibility. For the same reason, do not use waxes or silicone products that prevent the leather from "breathing". Horse grease, moisturizing cream, shoe polish or oil should not be applied either (in the end, any type of oil-based product), since these types of products can deteriorate the leather's finish over time, accumulate in the pores of the leather, favouring the appearance of stains and attracting dirt.
Leather has limited elasticity. This means that when stretched, it does not fully recover its original shape. Consequently, depending on the more or less intensive use of the furniture, leather can give of itself with time.
Never use detergents that are not recommended by the manufacturer/seller, nor chemicals or aggressive cleaning agents on the leather. They can irreparably damage the surface of the leather, causing cracks and discoloration. Leather should only be treated with products recommended and/or supplied by the manufacturer/seller. However, it is recommended to use those products for the first time on a non-visible part of the sofa (to minimize possible problems that may arise when using these substances on our furniture's leather).
Do not clean with chemicals containing alcohol, solvents, acetone or petroleum distillates. Do not apply either "household cleanser", window cleaner or multipurpose products, or moisturizer for human use. Do not clean with water vapour, bleach, aerosol, chlorine or ammonia, furniture polish or vinegar. Using these products will alter the properties and condition of the leather. In the same way, we must prevent leather from coming into contact with products such as nail polish, nail polish remover, glue, paint, etc., as these products end up by "eating" the outermost layer of leather.
Although it may sound a little obvious, we must avoid placing our leather upholstered furniture next to spaces with punctured, sharp objects or objects that may cause some deterioration of the leather.
Leather is not very resistant to animals. Keep your pets away from leather upholstered furniture. They can scratch it and cause costly damage. Also, their saliva is acidic and can damage leather's finish.
Following on from previous points, remember that there are cleaning products specifically indicated for the care and cleaning of leather, as well as conservation creams of periodic application.
Leather adapts to the ambient temperature and body temperature, so it is cool in summer and warm in winter.
Under normal conditions of use, the skin does not have to crack, although areas with signs of wear may appear after a few years of use.
If you have a relaxation system incorporated in your furniture, try not to force it with excessive weights, as they are designed exclusively to support the feet and improve your rest.
MAINTANCE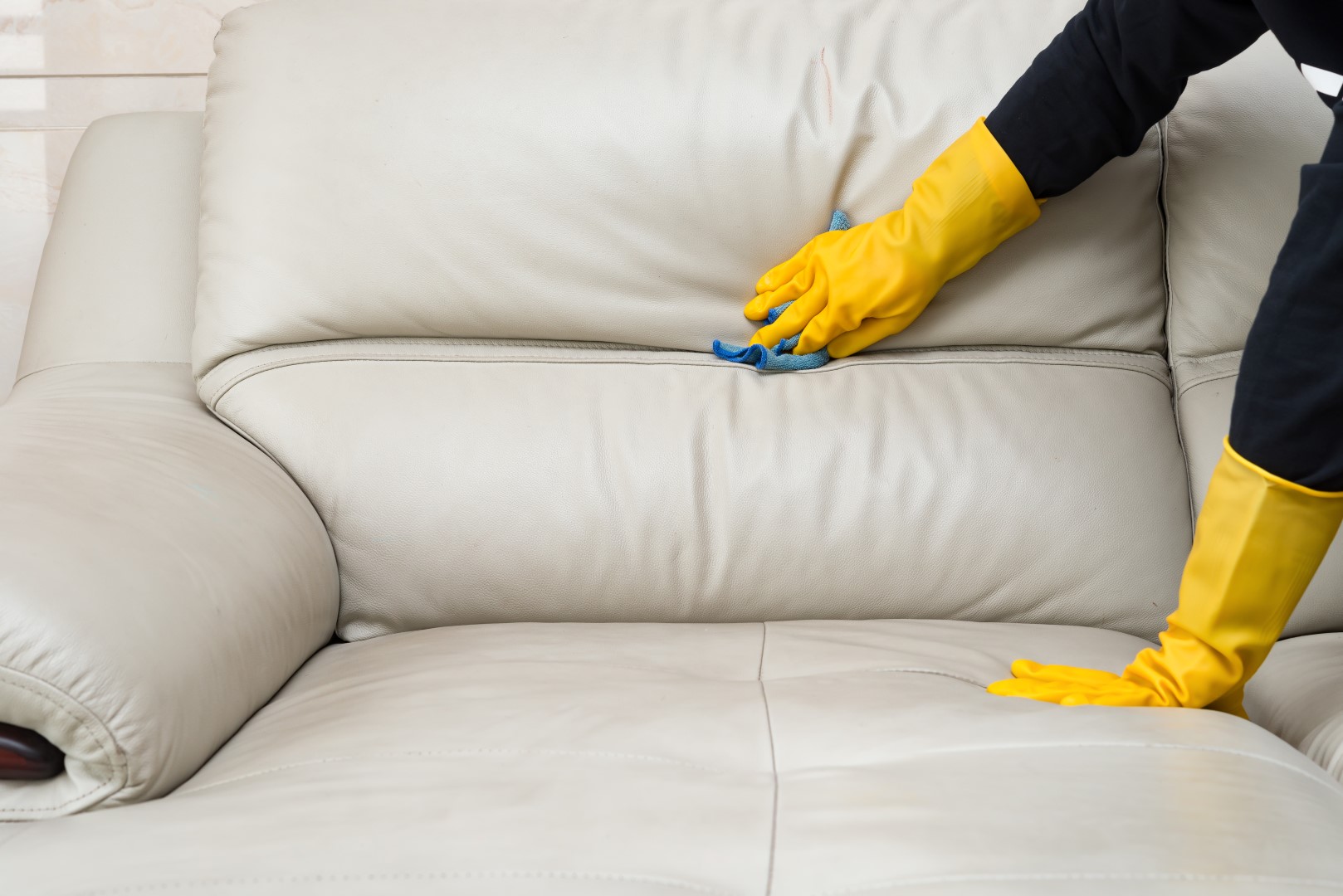 Like other furniture in the house, leather upholstered furniture accumulates dust. Every 15 days it is advisable to completely remove the dust with the help of a vacuum cleaner (using the special upholstery tool, if available, or the soft brush accessory of the vacuum cleaner in the corners and joints of the sewing joint, where dust can accumulate especially).
Care for the appearance and texture of the skin surface by dusting it once a week with a soft, smooth, non-abrasive and dry cotton cloth or suede. This will remove dust particles. Ideally, just a single cloth or suede should be used for cleaning upholstered furniture. Never use microfiber, since it scratches the leather. In the case of light-coloured leather furniture, it is essential that the cloth be white.
It is always advisable that the cloth be white (especially if the furniture is white or light) to avoid transfers of colour, as these are very difficult to remove.
As a general rule, every 6 months it is advisable to carry out a thorough cleaning of leather. To do this, you can use a product for cleaning and treating it (apart from being supplied by furniture and leather manufacturers, that kind of products can be found in any supermarket, or even in shoe shops) or a clean cotton cloth and moistened with soap with neutral pH to remove dust and surface impurities, followed by another dry cloth impregnated with a special cream to moisturize and protect leather, so that it can be protected against skin damage.
Leather is highly absorbent, and will need more frequent cleaning if leather upholstered furniture is in areas of high use, such as living rooms or meeting rooms.

Although (as we said before) there are specific creams for skins and leathers, the classic "Nivea" cream (applied after cleaning the furniture, in the form of a thin layer, using a non-absorbent cloth on the leather homogeneously and spreading it well with circular movements to penetrate) can be more than enough to nourish and moisturize the leather of our furniture, in addition to keeping it soft, shiny, and protect it.

After that, we should let it dry (that is, let the skin absorb the product) and, finally, we will polish it with a soft cloth (the wool ones work very well) to remove the nutrient remains.

With all this process, we will renew the level of protection of the leather of our furniture (leather may darken after this treatment, but it will recover its original colour in a few days).

Just add to this point that, depending on the humidity of the place where we have our furniture, it is necessary to hydrate our furniture more or less frequently. As an example, there is not the same environmental humidity in a climate as in Galicia (rainy and humid), than in a climate like Andalusia (hot and dry).

A simple trick to hide scratches and recover colour in discoloured areas is to dilute, with bain-marie, shoe cream (of the best possible quality) a shade as similar as possible to the colour of our leather's upholstered furniture. Afterwards, simply apply it to the scratch with a fine brush (if it is for scratches) or with a clean cloth (if you want to recover the colour). We will repeat the process as many times as necessary throughout 1 to 3 days (to give leather enough time to absorb the product), and always, a few minutes after this process, we will pass another clean cloth to remove any excess product.
This way, we will be able to enjoy our leather furniture, keeping it clean, soft and flexible for many years.
CLEANING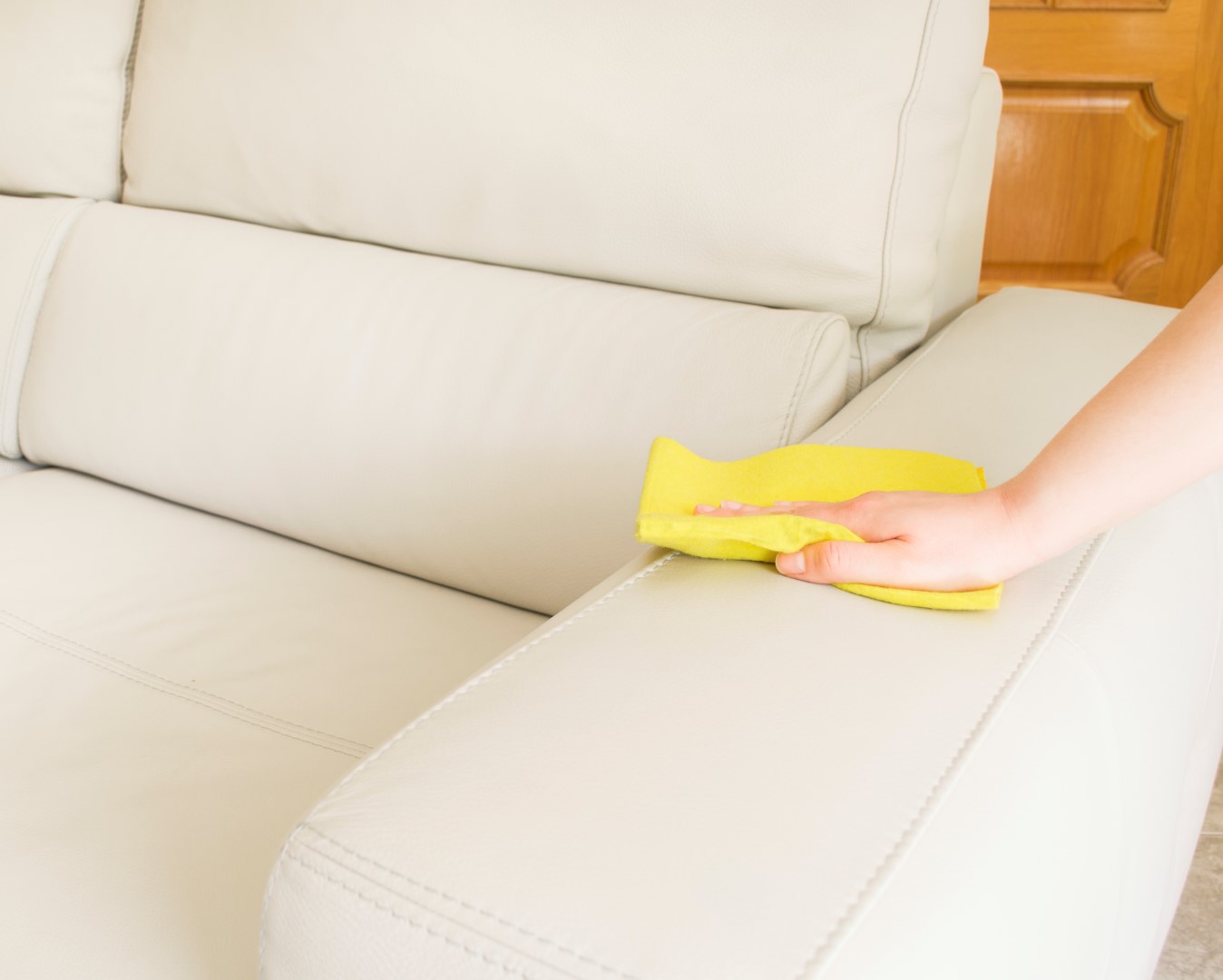 As with all other fabrics and cloths,
stains should be removed as soon as possible
(since this will prevent the stain from penetrating the skin).
In general terms, in the event of a stain,
immediately cover it with absorbent paper (without rubbing, always proceeding from the outside towards the centre), in order to prevent the stain from spreading.
The specific dirt can be cleaned with a neutral cleaning product diluted in water, using a dry, soft and white cloth, and then applying a nourishing cream (which will recover the original protective oils that leather can lose during the cleaning process) and thus keep it protected.
For grease stains (such as butter stains, oil, ketchup, mayonnaise, chocolate...), first remove the excess residue well with a clean, dry cloth. There may be a spot left that will dissipate on its own in a short period of time. Still, after this, use talcum powder in the affected area, and leave it on for about an hour. Then clean the affected area with a soft-bristled brush. Finally, wipe with a damp cloth with the recommended product.
You can also choose to gently remove the substance from the surface (without pressing) with absorbent paper. Then, with a clean cloth soaked in a much diluted neutral soap solution, gently rub the stain from the outside in. Immediately wipe the area with a clean cloth.

We do not recommend using only water to try to clean this type of stain, as it would spread further.

For dry stains, it is ideal to brush delicately with a soft bristle brush or a medium power vacuum cleaner, using the specific accessory supplied, and taking care not to rub the accessory directly against the upholstery.
In terms of ink stains, there are specific products and erasers for the cleaning of pen stains, for example, that are always convenient to have on hand.
With regard to liquid stains, leather has been treated to be impermeable to liquids, but in case of spillage of any type of liquid on the skin, it is advisable to pick them up with a soft and non-abrasive cloth (or absorbent paper), without rubbing. If it becomes stained, clean the skin with a clean sponge or cloth moistened with warm water and neutral soap, from the outside in, then rinse with a damp cloth and then dry with a clean cloth.
We can also use classic baby wipes for daily maintenance. We can use them to clean the areas where rubbing with body parts occurs, such as hands, neck or head (arms and head).
If the furniture is white or very lightly coloured, and it is so rubbed against clothing, we have a very good option: the melanin sponges (also known colloquially as "magic eraser") work very well on leather. They are moistened in water, and leather must be gently rubbed with circular movements, then rinsed with a damp and drained cloth, and dried well afterwards.
We can also give it a gentle hand wash by applying a neutral soapy cleaner (which can be done by diluting a tablespoon of neutral gel in a glass of water), applied with a soft sponge, rubbing lightly, and not soaking the surface too much, followed by wiping with a soft dry cloth, for not leaving traces of the product on the leather.
Another trick to preserve the shine is, after cleaning, rubbing the leather with a wool cloth.

As a final corollary, we hope to have been helpful with our articles, and to have clarified any possible doubts about cleaning our furniture.

Contact
If you have any questions or concerns, please contact us through this simple form. We will be happy to help you.