CLEANING AND MAINTENANCE OF FABRIC OR CLOTH UPHOLSTERY
Upholstered furniture (
sofas, armchairs, chairs...
), in addition to fulfilling a decorative function, allow us to sit and rest on them. However, precisely because of the continuous use of them, there is a deterioration of the fabrics in which they are upholstered, which can be avoided by routine cleaning and maintenance.
With today's article, we are releasing a series of different articles designed to give advice and help for cleaning and maintenance of the fabrics we use in our upholstered models. These fabrics are
fabric, leatherette, genuine leather and nubuck.
To begin this series of articles, we will start with the cloth or fabric. It comes in several forms...
Natural fibre fabrics such as cotton, linen or wool, or those made from artificial fibres such as viscose, offer a noticeable sense of comfort because they
breathe and absorb sweat.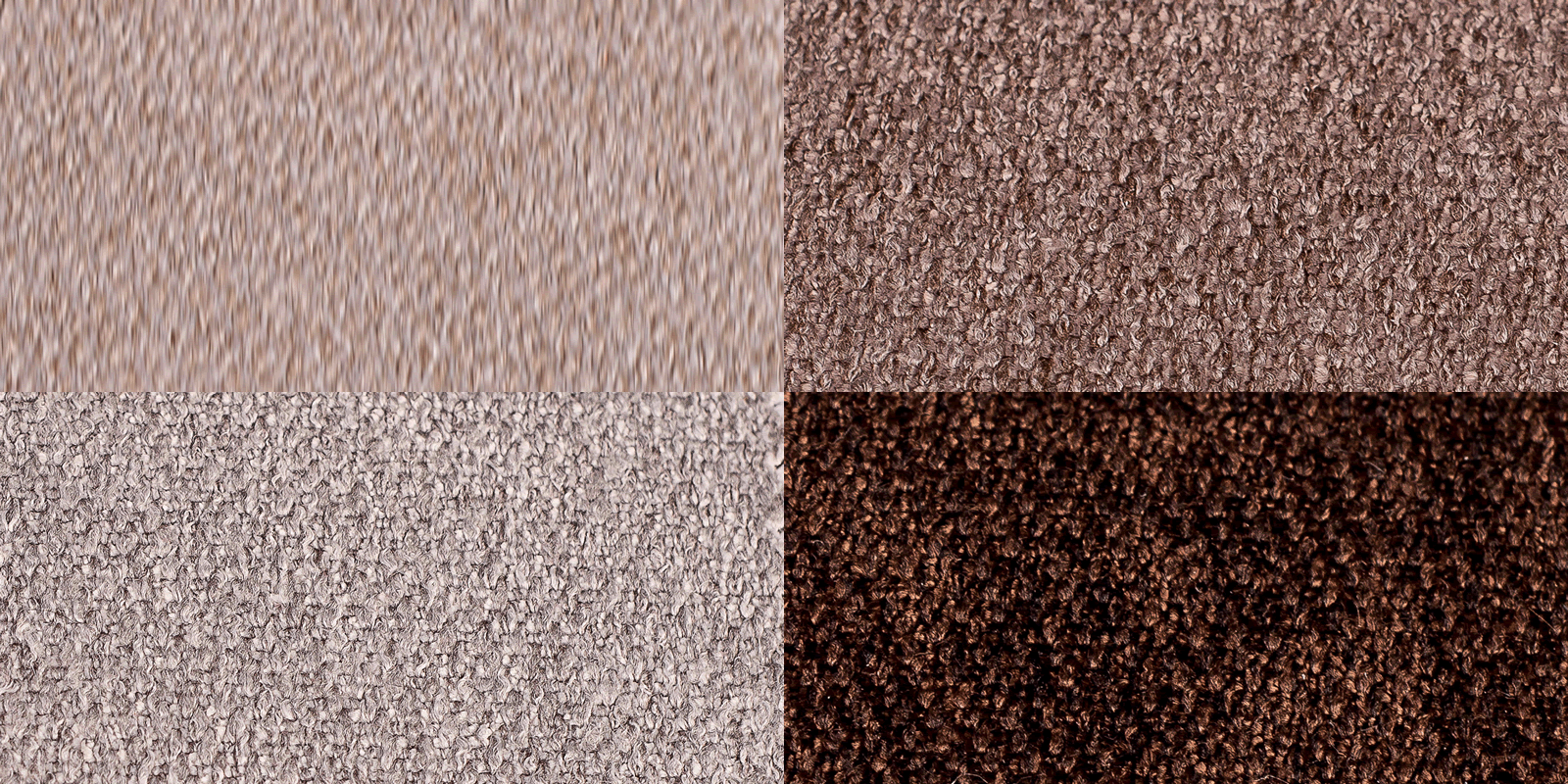 These tissues are hydrophilic, which means they attract and absorb water and anything that contains water, such as drinks, food, medicine, syrups, etc. These tissues are also oleophilic, i. e. they absorb oils and fats, such as acids from sweat.
Fabrics made of synthetic fibres such as polyester, polyamide and acrylic offer remarkable mechanical resistance. These fibres absorb liquids to a lesser extent than the above. Therefore, stains caused by spillage of liquids or water-based products are easier to remove. However, these fibres are oleophilic, which means they absorb oils and fats.
Mixed fibre fabrics (various combinations of
natural, artificial and synthetic fibres
) offer high stain resistance and excellent comfort.
It is needless to say that upholstery fabric will last much longer and will be better preserved if a preventive maintenance programme is implemented.
As we explained in each page of each of our models, all the fabrics we use in all of them are treated with the following treatments:
Water Proof (a technology that allows the fabric to be cleaned only with water, gently wiping it with circular strokes with a damp cloth, without having to use a complete wash or detergents).
Anti-stain treatment
Anti-pilling treatment (a treatment to prevent small knots or balls from forming on the surface of the tissues during use)
Treatment to make fabric breathable
Treatment to allow machine washable. With a regular care of the fabric is not necessary to machine wash, but in case of complicated stains it is advisable to follow the following instructions:
Machine washable (maximum 30°)
Dry cleanable
Do not centrifuge
Do not use bleach
Do not dry under the sun
Do not tumble dry
Do not iron
Do not twist the tissue
With all this, as you can see, in our models, cleaning is quite easy, but for all the other people who visit our site and blog, and have an upholstered piece of furniture that we have not upholstered, we will give you a series of advices and warnings to clean and maintain your upholstered furniture yourself with fabric (
without having to resort to a professional cleaning service of upholstery or a specialized dry cleaner
).
ADVICE, RECOMMENDATIONS AND WARNINGS FOR CLEANING THE FURNITURE FABRIC
The first things we must take into account and follow accurately are the instructions given to us by the manufacturer or the seller of the product.
We must always do what that person has told us to do.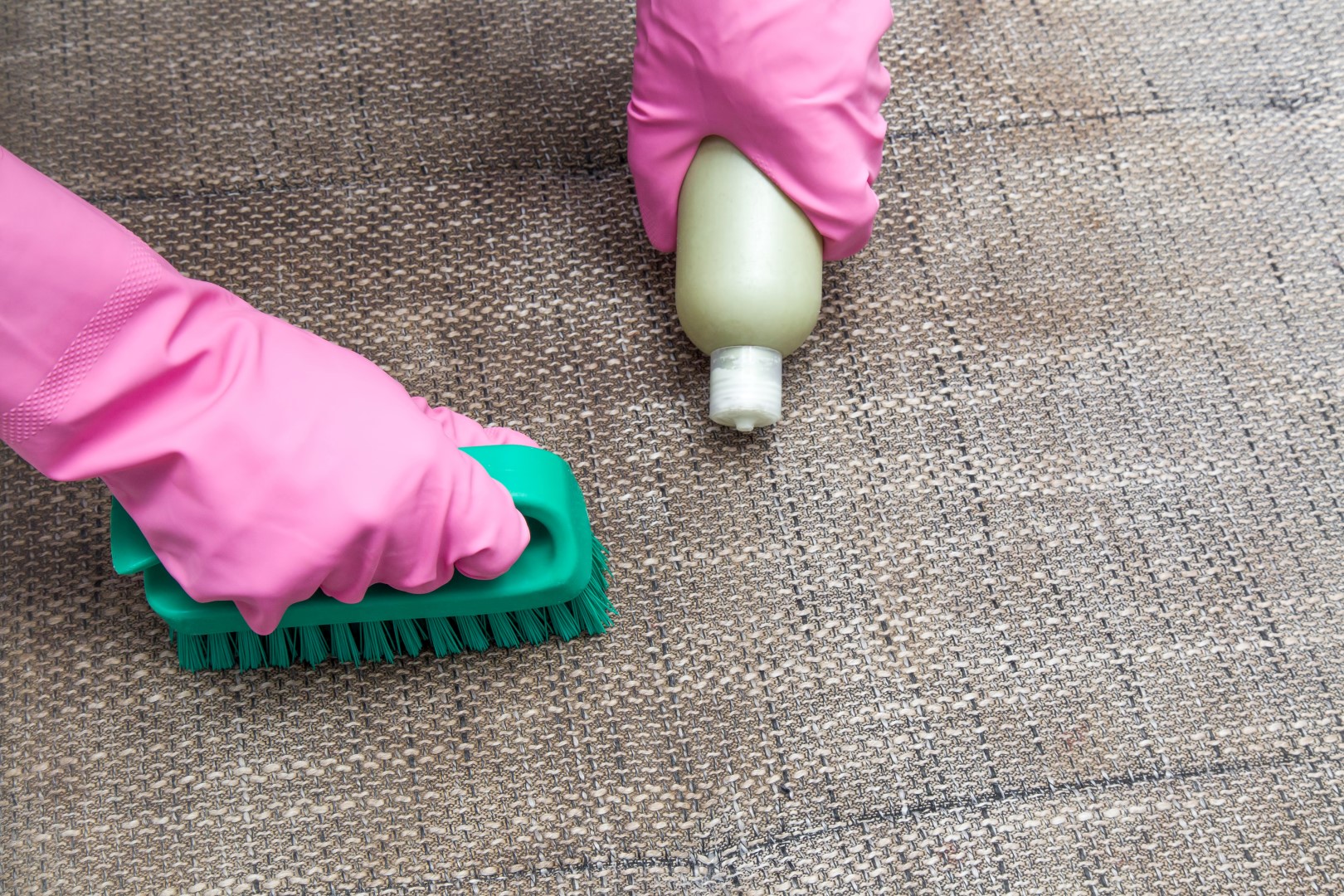 If we have no indication from the manufacturer or the seller, we will do the following...

For normal cleaning in non-removable fabric upholstered furniture, if there is no stain, a homemade way to do it is to put warm water in a bucket. Add a glass of detergent for delicate clothes to this water. With a damp, well-drained cloth, wipe the fabric from top to bottom and let it dry in the air. This will help keep the tissue clean.

For both removable and non-removable fabric upholstered furniture, we advise you to clean frequently the small stains caused by rubbing or any accidental spillage of food and/or liquids. Waiting for more stains to be originated before cleaning is not a good choice, as the stains penetrate the fibres and make it increasingly difficult to remove them over the course of days.

However, no matter how careful you are, it's inevitable that they will get stained. That's why once this happens, clean up stains and spills as soon as possible:

In the case of liquids → Quickly place an absorbent cloth or sponge on top of it to absorb as much of the liquid as possible without moving it (very important) over the stain (therefore we avoid spreading it even more). When most of the liquid has been absorbed, you have several options to remove the stain. The ideal is to use a dry stain remover, (usually you will find it in spray). You should apply it for a few minutes, wait and then gently remove it with a brush.
You can also use another trick: a mild solution of white soap for clothes diluted in water. Apply this solution on a clean, damp sponge, then gently wipe the affected area with circular motions, from the outside to the inside of the stain (always better than rubbing), and let it ventilate. Also (if the fabric is not very delicate) you can try with detergent and a damp cloth. Never use abrasive cleaners, dish products, or toilet soap.

For certain types of liquids, it is possible to achieve good results after applying the soap if we use alcohol diluted in water (for alcohol stains), vinegar diluted in water (for wine stains) or ammonia diluted in water (for coffee or tea stains). After using these remedies, dry with a hair dryer from the outside to the inside of the wet area

If it is a grease stain → Always have at hand some special product for fabrics (they are a kind of powder that is removed with a brush when dry). If you don't have it, you can use salt, baby talcum powder, flour or even chalk. Sprinkle them over the stain, wait for a while and gently brush to remove all debris. An alternative to stain remover, if you don't have it at home, is to use a damp cloth with detergent.
If it is another type of stain → Clean the affected area with a damp cloth with neutral soap, tapping instead of rubbing (try first in a place that is not visible, as some fabrics lose their colour). You can also use commercial upholstery cleaner, or prepare a household one with active oxygen. If you use the commercial one, follow the instructions that the manufacturer of the commercial product has written on the product label.
In the case of staining a fabric that has been treated to prevent dirt from penetrating the fibres of the fabric itself, most stains can be removed with a white non-abrasive absorbent cloth, or using a stain remover.
Also, for a deep cleaning of the furniture, you can do this cleaning with foam for upholstery. It is recommended that you check the quality of the colours before applying them on all the upholstery. To do this, moisten some inconspicuous areas of the upholstery, place the wet cloth between two cotton cloths and press them with the hot iron. If you have not stained the cotton fabric by removing the iron, this means that the colour is solid and you can proceed to wash the fabric. If the cotton fabric has become stained, wash the upholstery dry.
You can also try to clean the furniture with a steam engine (also known commonly as "vaporetta"). First of all, we have to be careful when using the steam engine, because an excess of hot steam on the furniture can damage the upholstery fabric. The steps for cleaning upholstery with this method are as follows:
We will first vacuum the entire surface of the furniture to be cleaned, with the help of a vacuum cleaner
Remove cushions or accessories from the furniture
With the help of the vacuum cleaner accessories, we will vacuum all corners and grooves of the furniture well
Next, we will vacuum the cushions or furniture accessories well
Once everything is well vacuumed, we will assemble the steam cleaner and fill it with clean water. It is obvious that you must follow the manufacturer's instructions to use this device
We will clean the cushions (before passing the steam engine through the cushions, we will remove any existing stains). Once we have the stain removed from the cushion surface, we will pass the steam engine. We will not apply too much water; we will only moisten the surface, because this way the drying will be faster.
Once we have the cushions clean, we will do the same with the rest of the piece to be cleaned (as before, we will first remove the stains, and then pass the steam engine)
In case we see that the product we have used to remove stains is not completely removed with the steam from the machine, we can help remove them by wiping them with a cloth moistened in waterOnce we've run the steam engine through the entire furniture, we'll let it dry. The furniture must be completely dry before reassembly and use
As we have mentioned before, if you are going to try a cleaning product that you have never used on the furniture, and you are not sure if it will work well because it is not the official one recommended by the manufacturer or for any other reason, the best thing is that you do a test in a non much visible part of it (as from behind or below if you have leftover fabric).
It is undeniable that the best way to clean upholstery with ease from the purchase onwards is to buy removable fabric furniture that can be easily washed, always following the washing instructions on the label. This way, it is simply necessary to draw, pre-treat the stains with the grease remover or stain remover that we usually use for the laundry and, once clean and dry, put it back in place (
sometimes, depending on the manufacturer, it is a little difficult to put the covers back in place, but it is a matter of patience and skill
).
ADVICE, RECOMMENDATIONS AND WARNINGS FOR THE MAINTENANCE OF THE FURNITURA FABRIC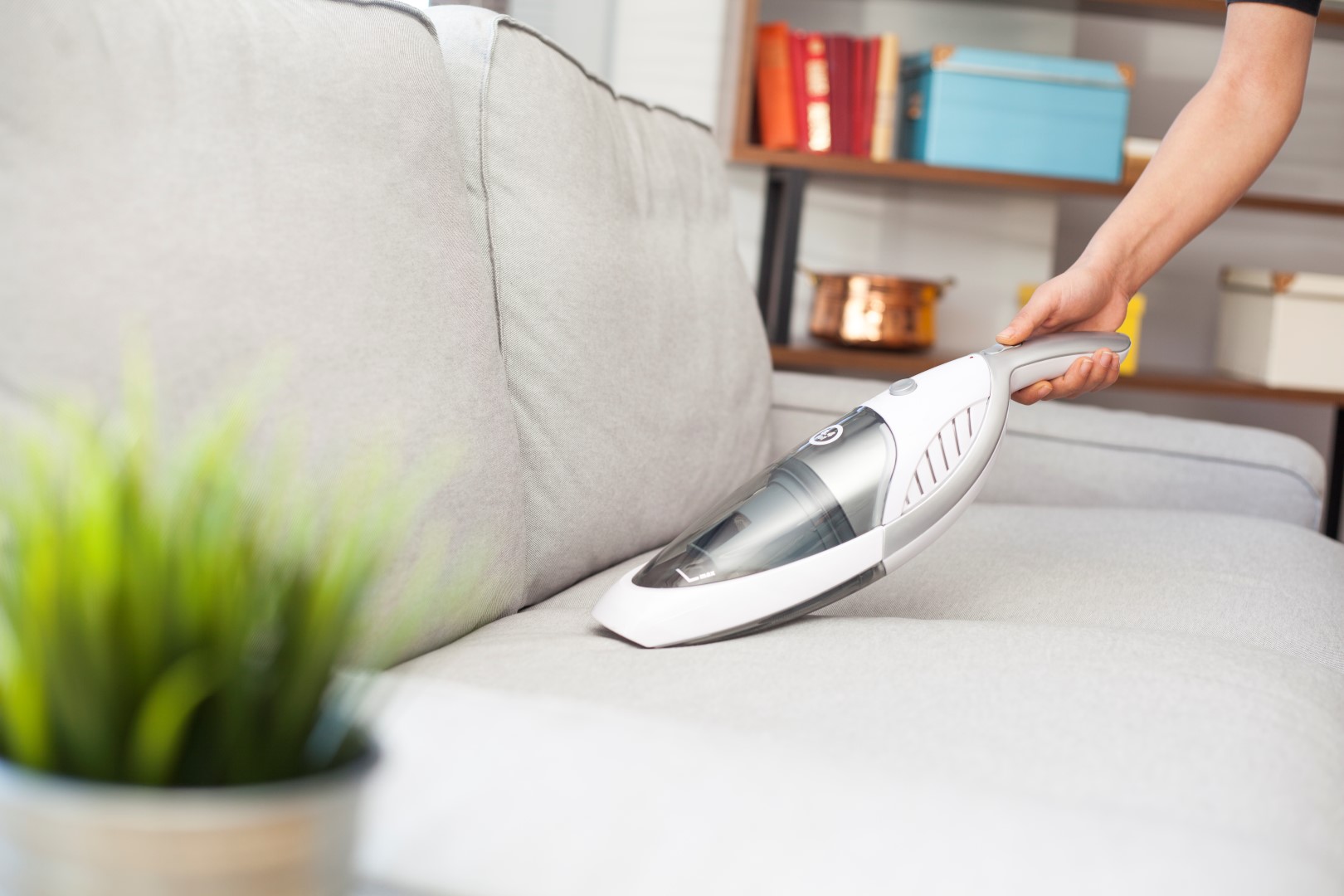 Pass the vacuum cleaner weekly (if not, at least once a month) to remove all traces of dust (including arm rests and back) that may have filtered between the fibres of the upholstery (any vacuum cleaner is useful, although there are already special vacuum cleaners on the market to be used only in this type of furniture). The best way to do this is to put the vacuum cleaner in a cycle that is gentle, with the head indicated for upholstery to avoid damaging it with this procedure.
Prevent the sun from shining directly onto the furniture. Allowing this damages the fabric of your upholstered furniture as it can "eat" the colour of the fabric and eventually degrades the fabric's own fibre making it weaker and more fragile. For the same reason (although we advise you to clean the sunny days, as this will dry the fabric more quickly), avoid drying the fabric directly under the sun.
Contamination, such as cigarette smoke, also harms fabrics (whether they are coloured or not) and affects the colour and odour of the fabric.
When cleaning a stain, do not apply too much soap, as this may cause a soap stain to form and force us to rinse it with plenty of water to remove it. It is better to apply little soap, and apply more if we find it necessary.
We recommend cleaning upholstered furniture on average twice a year
Don't sit on the couch arms (you could break them)
As a last possibility, you always have the possibility of acquiring a cover for your upholstered furniture (although in some cases it is even necessary, as when there are pets at home, it is counterproductive, since it does not allow you to see the upholstery of the furniture).
The fabric is not resistant to animals either. Pets should not be allowed to climb on furniture upholstered with fabric. Your nails can damage the fabric, which would require expensive repairs or re-upholstery. Your saliva is acidic and may discolour the tissue.
Contact
If you have any questions or concerns, please contact us through this simple form. We will be happy to help you.